Affiliate Disclosure: Some of the links in this post may be affiliate links. As an Amazon Associate, we earn from qualifying purchases. Learn more here.
---
In this article, we shall explore some of the best paint for boat trailers in the industry. This will make it easier for you to pick one to purchase in a market with overwhelming choices.
There will also be a buyer's guide and FAQ where you can get more information on how to care for your boat trailer and correctly paint it.
---
---
Finding the Best Boat Trailer Paint at the Market
Boat owners spend lots of time maintaining and restoring their boats. After all, the boat is the main focus. It's easy, however, to forget the handy boat trailer, which also needs some tender love and care.
In particular, trailers need to be painted, not just to look good, but also to protect them from the harsh elements.
So, read on to find out which paints to look for, as well as what makes them so great.
---
Best Paint for Boat Trailer – Our Top 6 Picks
---
Boat Trailer Paint Reviews
Here are a short reviews of each of our 6 best products:
---
1. TotalBoat Aluminum Boat Paint
A great choice for aluminum boat trailers.
It's actually harder than it looks, finding the right paint for your boat trailer. There are lots of boxes to tick, such as ease of use, suitability for marine environments, suitability for use with aluminum, and so on.
What I like about the TotalBoat Aluminum boat paint is that it ticks all the right boxes. It's a solid marine paint that's perfect for both aluminum and regular galvanized metal in watercraft.
It also comes in a whole slew of colors, including army green, light gray, earth brown, black, white, and khaki. Apart from that, it is capable of covering up to 100 square feet per every quart of paint, making it great value for money. I also like the great price. It's decent and within most people's budgets.
The only downside I would point out here is that you need to thoroughly clean the paint gun after using it, as the paint has the potential to come off if it is not well cleaned.
That said, if you like a low gloss yet impressive finish that won't peel, fade, or chip, it's hard to do much better than this paint. You can apply it with a spray, roller, or brush, and you don't need to apply primer first.
It also doesn't have a strong and unpleasant odor, like many of the others on the market. It has zero chromate content and is not hard to clean at all, since t only needs soap and water to do the job.
---
2. Rust-Oleum Marine Topside Paint Black
Versatile as it can be used on a variety of surfaces.
This paint is quite high quality, and well placed to be used on the metal used to build watercraft. It can also be used on other types of surfaces, such as wood, and fiberglass, and practically any other surface that is on top of the waterline.
I also like that it can cover up to 100 square feet per quart and that it only takes a maximum of two hours to dry. One of the main reasons why boat owners pick this paint is that it offers a solid coating that combats all sorts of harsh weather conditions and resists abrasion. It also provides a shield against UV radiation. If you want an elegant coating for your boat trailer that will last for years, then this paint is an excellent choice.
It also has a great price, offering incredible value for money. It's oil-based, which makes it much easier to apply and level than other kinds of paint.
That said, it does have a strong odor, which means you will have to wear a face mask and goggle while using it. That said, it's an excellent paint with great features that anyone would appreciate. It will not only make your boat trailer look good, but will also protect it from the elements.
---
3. POR-15 Rust Preventive Coating Semi-Gloss
Great for rust proofing your boat.
What I like most about this paint is its rustproofing ability. It will shield your panels from the small wear that comes with corrosion, and you don't even have to heat or spray it. You can apply it with a simple paint brush.
It also lasts quite long, offering a superior shield against rust for a few years, and giving you great value for money. Better yet, you don't even need to clean the rust off before you apply the paint, though I would advise that you do it, simply as a best practice. It's also quite safe, as it has been manufactured to be free of lead content.
That said, this paint is only suitable for use on metal substrates. You can't use it on any other kind of material. The can can also be more than a little difficult to open, so might need some strength.
All that said, this paint has superior performance and easy application. It also does not easily chip or crack when dry. Just don't use it on any substrate other than metal.
---
4. Rust-Oleum Protective Enamel Paint
Can be used on a rusty surface without the need for too much prep.
One of the biggest headaches is painting a rusty boat trailer, especially if the paint you chose isn't specially formulated for use on such surfaces. This paint has been built for just that purpose.
This paint coats well and gives your boat trailer a glossy and outstanding finish. It has a very high resistance to abrasion, chipping, and fading. If you're looking for a paint that can restore your boat trailer, then this is it.
The only gripe I have with it is that you can't use it on its own if you're repainting your boat trailer. In that case, you'll have to combine it with a hardener and a thinner for it to work as it should. You should also apply it with a brush that's been made for use with oil-based paints.
All that said, this is a great paint, offering good value for money. The oil based formulation makes it great at offering a glossy and waterproof shield for your boat trailer. It can safeguard all sorts of surfaces, including wood, metal, masonry, and even concrete. It also dries within 2-4 hours, and it is capable of covering 90 square feet per quart. That's some great value for money right there.
---
5. Corroseal Water-Based Rust Converter Metal Primer
An excellent choice for restoring metal surfaces.
This is an excellent paint for restoring metal surfaces. It can also extend the lifestyle of your boat trailer by protecting the surface from rust and corrosion. It also has a water-based formulation, which means it's easy to clean with simple soap and water.
My only issue with this paint is that this paint is very costly. If you have a limited budget, you might want to skip it altogether. Also, unlike some of the other paints in this list, this one might need some prep work prior to application.
That said, this is still an excellent paint. You can use it for many different applications, including marine, industrial, automotive, and even household applications.
If you think about it from that perspective, the price might actually make sense as it's good value for money. It can be applied via roller, brush, or spray, and is a single step formula that makes it unnecessary to first apply primer.
Overall, it's an excellent choice if you're looking for versatility and something to restore metal surfaces.
---
6. POR-15 Top Coat Chassis Black Paint
Offers excellent protection against UV radiation.
This paint has one of the best resistance to UV radiation on the market. It will also provide your boat trailer with a long-lasting sheen and does not even require an undercoat. It's also water-resistant and offers variety in terms of colors.
I have a few gripes with this paint. For starters, it has a tendency to develop dips and runs, especially when you apply it to a non-horizontal surface. It is also really difficult to wash off if it comes into contact with your skin.
You should handle it with care, and I would advise full head-to-toe protective gear while using it. I would also recommend following the manufacturer's instructions while applying.
That said, it has good coverage, and a single container can easily cover your entire boat trailer. While you might have to do some prep work, it's still relatively easy to apply and provides solid protection for your metal surface and a great sheen.
---
Painting a Boat Trailer – Buyer's Guide
When it comes to boat trailer paint, the most important thing is that you know what to look for in the paint you purchase. While the topic of painting may seem fairly simple, especially if you've already painted something before, such as a house or a car, there are a few special things to look out for in boat trailer paint that you might not think about when looking at other types of paints.
Here are the factors to consider when purchasing paint for your boat trailer.
---
Marine Trailer Paint Factors and Considerations
The Price
This is among the most important things to look out for when buying paint for your boat trailer. You need to consider whether the specific paint you want to buy is within your budget. You should also consider whether its features offer good value for money when compared to the price.
---
Marine Environment Suitability
Considering the fact that your boat trailer will spend a lot of time in a marine environment, which could potentially be a saltwater marine environment, it's important to check that the paint you're buying is suitable for saltwater and freshwater application.
A good bet is to go for one that can be safely used in both conditions. This type of paint will protect the surface of your boat trailer in wet environments.
---
Time Factors
These include such things as the launch time of the paint, the curing time, and the drying time. You obviously want something that dries quickly without compromising the quality of the finish. Take this into consideration as you do your shopping.
---
Ease of Use
Is the specific paint you're buying easy to apply and convenient for use for beginners? You don't want paint that's a headache to work with. A good paint should be high quality, but at the same time easy to use for both the novice and the experienced painter.
---
Number of Coatings
How many coatings of this paint do you need to apply? If it requires too many coatings, not only will it take a lot of time to apply, but you might also need to buy extra, in case the amount you have isn't sufficient to cover the relevant area.
---
Environmental Friendliness
Is the paint eco-friendly and user friendly? This point speaks for itself, as any buyer would appreciate an easy to use, high quality paint that is also kind to the environment.
---
Health Factors
These include such things as whether or not it produces a strong odor, which some users might not like, and also whether it might be potentially harmful to the health of the user.
---
Durability and Versatility
Is the paint built to last? Also, you want to check whether it has been designed to be compatible with aluminum.
---
Variety
You want to check if the paint comes in different colors and sizes. This gives you more options to choose from, depending on your needs and preferences. You should also check if a warranty is provided with all of these.
---
Which Brands are Most Trusted When it Comes to Boat Trailer Paint?
Whenever you're shopping, no matter what the product, you want to get the best quality product you can for your budget. Usually, a surefire way to ensure that is to look for the most trusted and reputable brands in that particular niche.
The most famous brands in a particular niche might be a little intimidating, especially considering the fact that their products typically cost more than those of lesser known brands.
However, they are a good investment as you are guaranteed that you will be getting high-quality products that offer value for money.
The same applies when you're painting your boat trailer. In fact, it is arguably important to be picky with paint, as picking the wrong one can lead to an ugly looking paint job that doesn't last very long and reduces the value of your boat.
Boat trailers are an expensive investment, and it is important that you get the paint to match. You want to paint that's not only beautiful but also built to provide a shield for your boat and, most importantly, last.
When it comes to paints for boat trailers, the most popular brands are Rust-Oleum, Corroseal, POR-15, and TotalBoat.
By knowing which are the best brands in the market, you'll find it much easier to narrow down your search and review the pros and cons of each individual brand.
---
How Do You Prep Your Boat Trailer for Painting?
Before you paint your boat trailer, you have to properly prepare it. The following steps are important to take when prepping your boat:
Pressure wash or wire brush your boat trailer to get rid of all kinds of stains, pollutants, and various filth.
If necessary, try to get rid of mildew and tidy up using mildew retardant solution. Once you're done, give it time to dry thoroughly.
You need to eliminate stains caused by oxidation. To do that, use Scotch Brite to your advantage. The best is the kind that comes with medium grit. Alternatively, you can use fine grade sandpaper.
Sanding your boat trailer will generate a lot of sanding debris. You should thoroughly rinse it off to get rid of the debris.
In case you're repainting the boat trailer, there are a few more preparations to be done.
In case the boat trailer is undergoing a repainting, which is to say it's been painted in the part, make sure to first sand it to get rid of loose paint and also to fix the edges.
You'll also want to get rid of any possible rust that has formed in the interim. Medicate using rust converting primer and a wire brush to get rid of all rust.
---
How Do You Paint an Aluminum Boat Trailer?
Painting a boat trailer made of aluminum requires a little more care than the job of painting a regular boat trailer. The thing about aluminum is that it's not terribly good at letting the paint stick on well. You therefore have to take some extra steps to get the paint to properly adhere to the aluminum, and also so it ends up with a polished look and lasts long.
There are many manufacturers these days that claim to have paints designed especially to stick to bare aluminum. They work fairly well in some situations, but I wouldn't trust them as a universal solution. If you want a finish that's durable, you have to take the steps to prepare the aluminum properly.
Below are the steps to take to prepare your aluminum boat trailer for a paint job:
Rinse the surface of the trailer using de-greasing cleaning solution and water. If you can't get a special de-greasing solution, you can use simple soap. Once you're done with the rinse job, let the trailer dry completely.
Once the surface is dry, sand it using 80-grit sandpaper to get rid of any loose paint. Also, make sure the surface is smooth.
Once you're done sanding with 80-grit sandpaper, go over the surface again with 180-grit sandpaper to make the surface even smoother and clear away any scratches on the surface of the trailer.
You're not done with the sanding just yet. The next step is to use 400-grit sandpaper. For this one, you should work gradually to avoid damaging the surface or doing an uneven job. This is actually the last sanding before you apply the primer, so it's important that the final surface is not only neat, but smooth and sleek as well.
The next stage is to wipe down the trailer to get rid of all the sanding debris. Do this with a tack fabric, which is very good at this job.
Next, you need to spray the aluminum trailer with a conversion coating and then let it sit. The manufacturer typically indicates in the instructions how long you should let it sit. Make sure to check the directions for any special instructions.
After a while, you can wash the conversion coating off the aluminum trailer using clean water, and then let the trailer sit to dry. You definitely don't want any water left on the trailer while you're adding the primer. It would pollute the primer and the result would be less than ideal. Make sure the water is out of any cracks or crevices and let it sit for as long as it needs to dry.
Now it's time to apply the primer. You should use aluminum oxide primer and apply it in a few thin coats. Let it adhere between coatings, but don't let it completely dry.
Once you're done, wet sand the finished primer. First, use 600-grit sandpaper. After that, use 800-grit sandpaper to get rid of all the leftover scratches and other blemishes before you begin painting. For this to work well, you should keep the sandpaper drenched as you work. This will give you the best possible outcome.
Once you're done, tidy up the surface of your boat trailer using isopropyl alcohol. Your aluminum trailer surface is ready now. You can paint it with any suitable boat trailer paint your like. For the best outcome, though, use several thin coats layered on top of each other.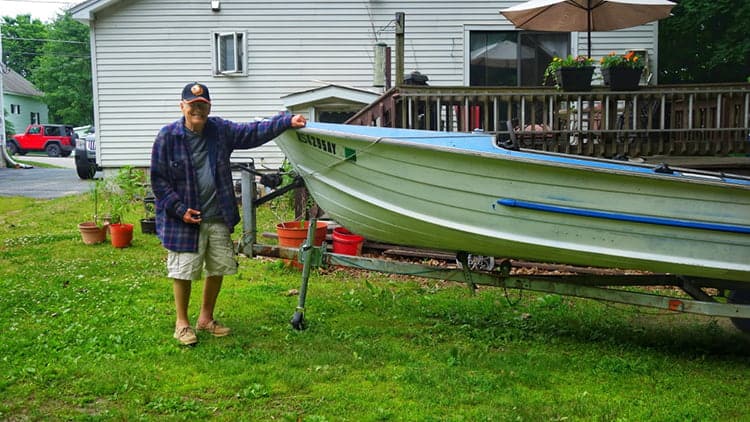 ---
How To Paint a Boat Trailer?
There are a few important steps to be taken whenever you're painting your boat trailer:
Begin by running an inspection of all the hardware, including all the welded components. Make sure all wrecked axles, damaged welds, and bents are repaired. The same applies to any loose bearings that might exist on the boat trailer. It is very important that you repair all the broken components before you paint your boat. Make sure to also check that the lights are working properly.
Next, get rid of all the old boards. You might need to use a reliable tool to help you cut through metal where you need to. An angle grinder, for example, is a good tool to use, especially if it comes with a metal cutoff disk.
Once everything is in order, sand all of the trailer's surfaces. The objective is to get rid of any and every blemish, especially rust. Rust would make it impossible to apply fresh paint on your trailer as it does hold.
In case the sanding process doesn't work as well as you might like it to, consider using an angle grinder fitted with a flap disk that's capable of getting rid of the layers on the surface of the metal frame.
Another point to take note of is that you should always wear protective gear, such as a face mask and goggles. Make sure to do a thorough job of getting rid of the old paint that's on the trailer, leaving nothing but a smooth finish behind.
Next, you need to strip down the trailer for painting. Check all of the components and make use of a welder to repair any damaged pieces.
You should also consider using an air compressor to get rid of any dust on your trailer. The air compressor will provide a powerful airflow, which will get rid of all the residue that's collected in the corners. This is important before you proceed to the next phase. You should use a drenched fabric to wipe down the frame and get rid of all forms of dirt and rust.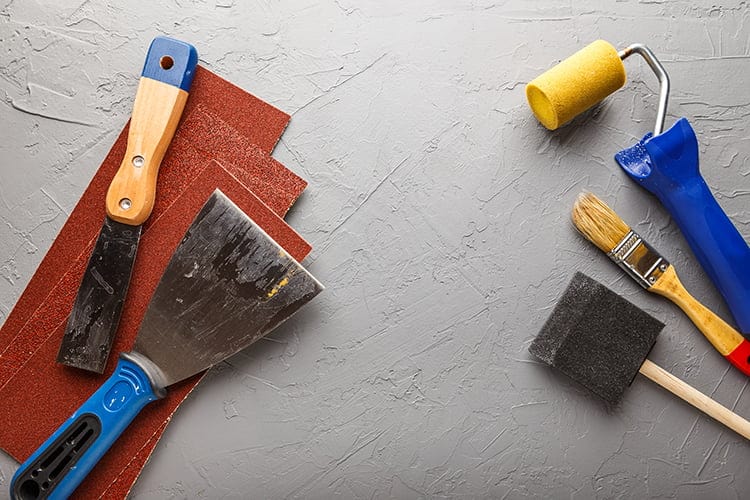 Now it's time to paint the rig. Again, remember to wear a face mask, goggles, and gloves while working. Carefully tape all of the pots that you would not like to paint or that you would like to paint in a different color.
Note that you can use enamel spray paint if you want to paint the metal parts of the trailer. Before you apply more coats, make sure to wait till the enamel spray paint dries. Continue doing this with all the other paint layers until you get the desired color and finish on your trailer.
In case you need to lift the wheels, start by taking the nuts off, and then paint them on their own so you can cover all of the angles. You should also strongly consider painting the spare wheel.
If you want to protect the body of the trailer, consider using a special sealer to do the job. There are quite a few such sealers in the market that have been specially manufactured to protect the body of your trailer from damage by UV radiation and water.
In case you apply the sealer, allow it to dry. After it's dry, check all of the wires. In case your boat trailer is old, I would recommend changing all of the wirings so that the lights can function as they should.
If you would like to set up replacement boards, you should ensure that you cut them properly. To get the measurements as accurate as possible, consider measuring the old ones and mimic the dimensions. Try to fit the newly cut boards in place first in order to make sure you got the measurement right. Once you're sure they fit, you can fasten them.
To protect your boards from damage by exposure to the elements, consider applying special purpose varnish on them.
Once you are done painting your boat trailer, you can fasten it to your vehicle and go out for a ride with it.
---
What About a Warranty?
No matter how good a manufacturer is, it is inevitable that a few of their products will arrive at the buyer's with manufacturing defects. Manufacturers with very high standards try to ensure it's a very small portion of their product line that arrives at their buyers' doorsteps with defects.
However, as a buyer, you know that there is a non-zero probability that you could be the one to get a defective product.
This is the main reason why it's a good idea to go for a product with a warranty. A warranty gives you peace of mind, thanks to the guarantee that if your product has defects it will be repaired or replaced at no cost to you.
Warranties also signal that a manufacturer is confident in the quality of their product. A manufacturer would be hesitant to offer a warranty on a low quality product, as claims might be too many and fulfilling all of them would prove to be an expensive exercise. A warranty is essentially a statement by the manufacturer that they are so confident in the quality of their products that they are willing to risk money for it.
Whenever shopping, make sure to go for products that offer some kind of warranty. It will give you peace of mind, but more importantly, it is a proxy for quality.
---
How Do You Care For and Maintain Your Newly Painted Boat Trailer?
First, make sure everything is secure and connected properly. Practice road safety, noting that safety begins long before you hit the road. Your trailer should have the basics, including reflectors, stop lights, turn signals and tail lights.
You should also inspect any cracked or otherwise damaged wires and connectors, any cracked or loose lenses, and any damaged bulbs that need to be replaced.
You should not allow the tires of the trailer to get exhausted. You can take proper care of them by preventing them from sitting for too long on the ground before you use them. Park the trailer on concrete or lay thick plywood sheets underneath the tires.
You could also consider using tire covers for your tires when you have no alternative to letting your tires sit on bare ground. Make sure to also examine the tire stems regularly and to inspect the depth of your treads frequently.
Wheel bearings are another thing you should stay on top of. You should regularly check your wheel bearings for damage or wear and tear. The wheel bearings must be resealed and repacked on an annual basis.
So how can you tell that your wheel bearings need to be replaced?
If the wheel is presenting resistance or does not spin smoothly, then this might indicate a problem with the wheel bearings.
If you hear squeaking and grinding noises when the trailer moves, then this might indicate the wheel bearings need changing.
If grease develops on the exterior of the wheel hub then it might also indicate that your wheel bearings need changing.
It's also important that you properly inflate the tires on your boat trailer. The tires should also be inflated at the proper PSI. If the tire blows out and the bearings are damaged, it could result in potentially dangerous trouble. You should also stick to the PSI recommendations of the manufacturer.
At the end of the day, implementing these little tips will make boat trailer maintenance feel like second nature. Being able to spot issues and repair them before things get too serious also ensures that your boat trailer lasts longer and gives you more memorable experiences on the road.
---
Best Paint for Boat Trailer – Conclusion
And with that, we come to the end of our review of the best paints for boat trailers. As you can see, getting the right paint can do a world of good to your boat trailer. You now know enough to give that trailer a long-lasting sheen so it looks just as good as your boat.
Happy sailing!
Last update on 2021-01-16 / Affiliate links / Images from Amazon Product Advertising API
Disclaimers
All product names, logos, and brands are property of their respective owners. All company, product and service names used in this website are for identification purposes only. Use of these names, logos, and brands does not imply endorsement.
It is our policy to make every effort to respect the copyrights of outside parties. If you believe that your copyright has been misused, please provide us with a message stating your position and we will endeavor to correct any misuse immediately.
Some of the links in this post are affiliate links. As an Amazon Associate, we earn from qualifying purchases. This means if you click on the link and purchase the item, we may receive an affiliate commission, at no extra cost to you. This helps us keep this website alive. Learn more here.