Affiliate Disclosure: Some of the links in this post may be affiliate links. As an Amazon Associate, we earn from qualifying purchases. Learn more here.
---
Boat engine maintenance can be challenging and time-consuming, but it needs to be done from time to time. And one of the things that you should regularly do is clean your carburetor.
Now, if you don't want to waste too much time on maintenance, you are probably wondering how to clean outboard carburetor without removing it. Well, there are a few ways to do it, and they can potentially save you a lot of time.
With that said, you can actually only do so much without taking your carburetor out and disassembling it. So you need to be careful in what circumstances to rebuild & clean your carburetor and when to perform a light clean without removal.
Below, this blog will cover all the ins and outs of carburetor cleaning without removal, including its disadvantages and best use cases.
---
---
What are the Symptoms of a Dirty Carburetor?
So how do you know that your carburetor needs some cleaning? Here are the most common symptoms of a dirty carburetor: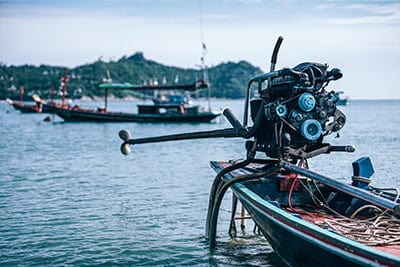 Reduced engine performance. Not capable of effectively mixing air with fuel, a dirty carburetor will impair the performance of your boat engine. This may manifest itself in the form of slow acceleration, reduction of power, or low RPM.
Sneezing and popping sounds. When there's too much air and not enough fuel, your engine may start making sneezing or popping sounds. Mechanics say that the engine is "running lean" when there's too much air in the fuel mixture.
Black smoke from the exhaust. If you see black smoke coming out of the exhaust, then there is probably excess fuel and not enough air in the mixture. This is also called "running rich".
Slow engine start. If your boat became hard to start, then it's likely that the carburetor is dirty.
There is no fuel when you remove the drain screw from the bottom of your carburetor.
One thing to note here – these symptoms can also be connected to a damaged carburetor. So troubleshooting a carburetor is not an easy task.
---
How to Clean Boat Motor Carburetor Without Removing It?
Now, how do you clean outboard carbs without removing them?
Well, considering that we do not want to remove the carburetor, disassembling the carburetor for cleaning is not an option. Pretty much the only way to clean the carburetor without disassembling or removing it is to use a carburetor cleaner.
---
How Do Carburetor Cleaners Work?
Here's how carburetor cleaners work: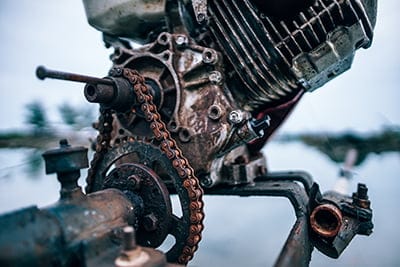 You add the required amount of the cleaner to your fuel.
You fire the engine up and go for a slow ride.
The cleaner passes through the carburetor (and also through the entire engine together with the fuel), loosening and washing away accumulated gunk.
The gunk is burned up in engine combustion.
This process is fairly simple and doesn't require you to remove or disassemble your carburetor in any way.
One thing to note – carburetor cleaners are available in various formats, so the way they work may differ from product to product. For example, some carb cleaners are designed to be sprayed directly into the carb. If you don't want to remove your carb, such carb cleaners will only work if you can access the carb's pilot air jet without taking it out.
---
Our Carburetor Cleaner for Outboard Motor Suggestions
Before moving to our carburetor cleaning guide, we'd like to suggest 3 carburetor cleaner options to you.
Sea Foam SF-16 Motor Treatment
The Sea Foam SF-16 Motor Treatment cleaner is exceptionally popular and highly-rated online – it has 4.8 stars on Amazon after over 6k reviews! With that, it's very likely to work for your needs.
SF-16 is primarily designed to dissolve and remove oil deposits and fuel residue from fuel systems. Not only that, but it lubricates cylinders, pistons, and intake valves for additional protection.
What's also very nice about SF-16 is that it's very inexpensive yet includes a lot of cleaner – 16 ounces! Depending on the condition of your carburetor, one can of SF-16 may be enough for a few uses.
SF-16 is also designed for both gasoline and diesel motors, so it's a good choice if you have diesel engines that need maintenance.
---
CRC Marine Carb/Choke Cleaner
This carb cleaner from CRC is designed specifically for marine uses. Unlike the Sea Foam SF-16 carb cleaner, this thing doesn't seem to lubricate the engine, but it appears to work nicely.
One important thing about this carb cleaner is that it comes in spray form. With that, it is designed to be sprayed into your carburetor. As mentioned earlier, if you can't open up your carburetor without removal, the CRC Marine Carb Cleaner won't work for the purposes of this post.
---
Quicksilver Power Tune Internal Engine Cleaner
The Power Tune Internal Engine Cleaner is designed to clean 2- and 4-cycle carbureted engines. Produced in spray form, it's intended to be applied to your carburetor's intake mouth. Aside from cleaning your carb, Power Tune will also take care of your engine.
---
Cleaning a Boat Motor Carburetor Without Removal
Now, let's have a look at the steps you need to take to clean your boat motor carburetor. These steps apply to carb cleaners like Sea Foam F-16 that are designed to be mixed into the fuel.
Fill your gasoline tank up.
Use a funnel to pour your carb cleaner into the gasoline tank. How much cleaner to add depends on what you have – if you have Sea Foam F-16, for example, then you'll need to add 1 ounce per gallon or 2 ounces per gallon for tougher messes.
Fire up your motor and go for a slow ride. This is necessary so that the carb cleaner in the fuel can flow through the engine and do its job.

Do NOT hit high RPMs while flushing the engine since the solution will just get washed off the cylinder walls.

When the carb cleaner starts working, you will see the RPM rise. As the RPM rises, turn the idle knob down to keep the RPM low.
To finish the flush, you should also add some spray carb cleaner into your carb's pilot air jet. It is usually located beneath the vacuum diaphragm. If you cannot find your carb's pilot air jet, consult its manual to figure out its location.
Be really careful with spray cleaners since they are toxic. Particularly, don't use them indoors.
---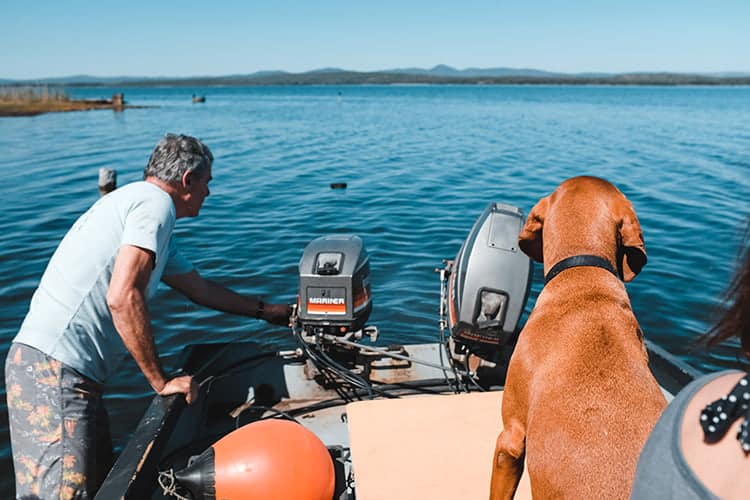 Testing the Motor After Cleaning
After the clean, test your boat to see if the cleaner was effective. Go for higher RPMs and pay attention to how your engine operates.
If you notice any noises or if the performance isn't quite as good as you expected, then chances are that the cleaner wasn't able to do its job. You may try to add a little more cleaner to the gasoline, but not more than recommended by the solution's manufacturer.
Another option would be to just disassemble the carb and give it a thorough clean, but this should be a last resort since it takes a lot of time.
---
What if a Carburetor Cleaner Doesn't Help?
If cleaning outboard carb with seafoam (as the Sea Foam cleaner is frequently called) does not help, then you might have more serious issues than just dirt and grime.
At this point, you should probably just disassemble your carburetor and have a look inside. The carb may need a more thorough clean to start working well.
It's also possible that you need to replace some damaged components. Perhaps, your entire carburetor should be replaced with a new unit.
In any case, if your carb is seriously damaged or dirty, then a carburetor cleaner will not be able to help you.
---
Are Carb Cleaners Effective at Cleaning Carburetors Without Removal?
If you think that carb cleaners sound too easy to be a perfect solution, then you are somewhat right. Carb cleaners like Sea Foam SF-16 can indeed help you, but only in some situations.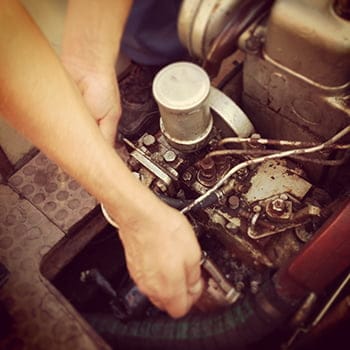 By some, we mean when the carburetor isn't significantly clogged up. Because if it is, rebuilding your carburetor may be a way better solution.
If you remove and take your carburetor apart, you will gain better access to its components and will be able to clean them thoroughly. Aside from that, you will be able to check the condition of your carburetor and replace anything if necessary.
If you haven't cleaned your carburetor for a long time, then a carb cleaner is unlikely to help you. Though if you are lucky, a simple flush might solve your carburetor issues.
But in most cases, a rebuild is a way better option.
HOWEVER, if disassembling and cleaning your carb is not possible at the moment, then a carb cleaner works great as a temporary solution. It's very easy to use and doesn't require you to take anything apart.
---
---
Frequently Asked Questions
Where to Spray the Carb Cleaner in Outboards?
Locate the pilot air jet and spray the cleaner into it. To find the pilot air jet, have a look at your motor's manual.
Will Vinegar Clean a Carburetor?
Vinegar is a bad choice for carb cleaning because it may make metal more susceptible to rust. Vinegar may also degrade plastic or rubber pieces in a carburetor, so do not use it to treat your carb.
How Do I Know if My Outboard Carburetor Needs Cleaning?
Among the most common symptoms of a dirty carburetor are:
• Slow engine start.
• Poor acceleration.
• Low RPM.
• Black smoke from the exhaust due to an overly rich fuel mixture.
• Popping sounds due to too much air in the fuel mixture.
• No fuel under the drain screw when you remove it from the bottom of your carburetor.
How Often Should You Clean Outboard Carburetors?
Some people prefer to clean their carburetors annually before putting their boats away for storage. Others clean their carburetors when the engine starts acting up.
Regular preventative cleaning is probably a better choice because in the long term, your carburetor will be in good condition when you need it. Plus, you won't have to worry about significant deposits of gunk or fuel residue in the carburetor.
---
How to Clean Outboard Carburetor Without Removing It – Conclusions
And that's it for our carburetor cleaning guide!
So as you can see, it is indeed possible to clean a boat carburetor without removal. This is the easiest to do in outboard motors, though some sterndrives may be easy to maintain as well.
As we've established, the primary way of cleaning outboard carbs with no removal is using a carburetor cleaner. To clean an outboard motor and carb, you add the cleaner to a full gasoline tank, run the motor for a bit, and check the results. If necessary, rebuild your carb.
In the end, we hope that our guide on how to clean outboard carburetor without removing it provided you with helpful insight into carb cleaning!
Last update on 2021-01-16 / Affiliate links / Images from Amazon Product Advertising API
Disclaimers
All product names, logos, and brands are property of their respective owners. All company, product and service names used in this website are for identification purposes only. Use of these names, logos, and brands does not imply endorsement.
It is our policy to make every effort to respect the copyrights of outside parties. If you believe that your copyright has been misused, please provide us with a message stating your position and we will endeavor to correct any misuse immediately.
Some of the links in this post are affiliate links. As an Amazon Associate, we earn from qualifying purchases. This means if you click on the link and purchase the item, we may receive an affiliate commission, at no extra cost to you. This helps us keep this website alive. Learn more here.