Fenders protect your boat in case of contact with another boat or a pier or anything else potentially damaging to the hull. They are used in marinas while parked, and are removed while at sea.
Fenders feature a nicer appearance, compared to traditional old-school car tires usually used nowadays only by service boats. There is a slight difference, however, between how to use boat fenders and how to use car tires considering both play the same role.
Let's dive in…
---
---
What Is a Boat Fender
A fender is an inflatable balloon, made of thick polymer material, resistant to sun, salt, continuous deformation and impact.
It serves to protect your hull from light scratches and severe cracks all the time while the boat spends time in a marina.
Fenders usually feature an oblong shape, but can be ball-shaped.
A fender is a relatively strong piece, but you can use it for something else like training MOB but this is a different story.
Fenders can be inflatable or foam, where the former are the most popular type, and the latter are more compact.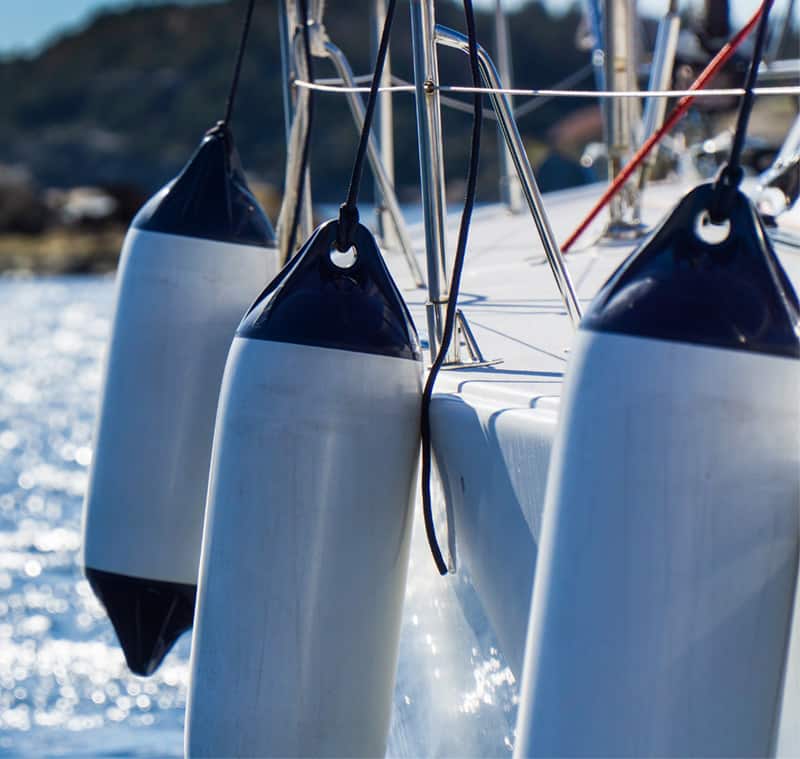 ---
Using Boat Fenders
As always in sailing there is no strict rule about using boat fenders, but this is totally your idea how you are going to use them, captain. Here we suggest practical advice for your best consideration:
Choose the right size of your fenders. However, there are no rules about it. You can turn totally paranoid taking one size bigger, or save cash and rely on luck and mastery taking smaller fenders. Also, the strength (the size) of fenders you want depends on the weather conditions in your dock.
The bigger the boat, the bigger the fenders. But you cannot use just bigger fenders than is expected for the size of your boat because you shall have no space inside to store them when on the go. I say it is a harder task than it seems at a glance.
Fenders obviously may influence the maneuverability of the boat if they are too big. Including in the marina while parking.
When you contact another boat with your fenders, you haven't officially committed a "mistake," even if that was the intention, if strategically planned. They are helpers those fenders and beautiful tools for you to use, but they will never protect you from bad driving.
Consider fender covers to protect from the sun. Along with salt water, the sun destroys everything. If you park your boat for a long period in a sunny location (like Caribbean) think of sun protection to extend the life of the fenders. However, this is not necessary if you are fine to change them after a few years. Yeah, you heard it right, the lifespan is huge for the fenders.
---
Tying Fenders to Boat
You can be tying fenders to a boat upon her cleats or anywhere you wish, but talking about cleats there should be a strong reason to use one because you occupy one. Consider other options.
The most common way to rig the fenders is attaching them upon the rails between the stanchions or on the bottom of the stanchions. The difference – the fenders can move along the rails, and it may be useful to adjust their position then but you put a harder load on rails.
Stanchions are fine as well, but the fenders shall be not moving one end. It may be what you want, if expecting a harder force applied upon a fender and you wish it to be rock-solid steady. Then do use a stanchion. Moving along a rail is seldom needed.
---
Where To Tie Fenders Along The Boat?
You need a fender at the beam, the widest part of a boat, on both sides, of course. Then you need one closer to the bow, and one closer to the stern, These are the places of a potential touch.
Placement of the fenders is very important. As in general the upper end of a fender is just next to the deck level, but having neighbor boats lower than yours you place your fender on a level of their deck.
Having an extremely low pier low pier potentially touching you at about a waterline then you place fenders as low as the waterline.
Potential contact, and damage is what you have in mind.
---
Concrete Is Your Enemy
When placing your fenders, be afraid of concrete or rocks more than other boats. Concrete is merciless, comparing to wood bumpers on a pier or a hull of another boat.
Usually another boat has her own fenders at least and she is moving. It is expected that that boats touch each other gently, but the concrete does not do that. Gas stations where you fuel up or dry dock entrances are the worst when it comes to concrete.
Some skippers put an extra fender at the aft when parking stern-in. Some skippers put an extra fender at the bow when parking bow-in. The decision is yours!
There is usually a bumper covering the concrete pier with a thick piece of wood or a hard rubber, but being paranoid is our human right. Better be over-cautious rather than under-cautious. This is sailing.
Facing something like a concrete wall, think of a spherical shape fender. Those serve well for the service boats; more importantly, they keep a greater distance between your boat and a concrete wall.
The disadvantage of the spherical fender is stocking it inside of your boat, so you'll obviously need much more space for the same size of fender. Much more space! It's good to have one just in case, but it shall form a serious headache you gonna hate yourself for.
---
When Should You Put Fenders On Your Boat
You rig fenders before you enter the marina, and you take them away, when you are out at sea. A few exceptions we mention further on in this post.
Should I put fenders on my boat while anchoring too? Maybe. If you want to. Like, there may be a whole crowd over there at the anchoring bay where you park, but I doubt too many people really do so.
You are allowed to feel lazy and just keep them rigged all the time, all the way. For example, you go one hour to anchor by the beach, the sea is flat, no wind, you are motoring slowly, lazy and relaxed, just keep them on, no issue.
TIP Consider washing them on the go, with clean salt water and no cleaning stuff. I did that so many times, and it works. Count it as a hint. Also, check How to clean boat fenders effectively.
---
Best Knot For Boat Fenders
The good-old clove hitch knot is what we use for fenders to put them on rails or stanchions.
A bowline knot is to attach a line to a fender itself. You do this job once in a fender's life. It is worth it to spend time to tie it reliably and look nice for the ecstatic feeling too.
A double loop is a good idea to reduce a load upon the fender's ropehold.
---
How To Tie A Boat Fender Knot
To tie a fender knot, which is basically a clove hitch or a modification of such, let yourself put an extra wrap to make a stronger clove hitch. Then we shall call it the double clove hitch (and you've just learned another knot, yeah!).
You can also secure the lousy end just in case to enforce it and sleep well. I do usually enforce the fender knot and I have never lost a fender so far. There is no emergency to untie a fender quickly, except when you are short of fenders.
Removing a fender may come as an emergency, then you can always throw a fender upon a deck behind the rails and it's going to stay there safely. It also works when you want to sail but do not want to untie.
Using a too thin rope may act like a knife to cut the fender's ropehold. You can also consider making two hitches, when putting a bowline knot upon the fender's ropehold, or even better a doubled loop to let the rope be moving relatively freely in it.
---
Mind The Wind When Tying Fenders
Place the fenders where you expect a hit or a planned touch. When stationed, think of other boats and the wind. It's not always your fault but the neighboring boats can cause a problem too.
Mind the wind in this regard. When going between two boats, having a wind at a beam reach, then you enforce the leeward side. This is because the wind shall push you towards the boat which is from the leeward side and less likely the windward side boat.
However do not ignore protecting the other side, too, as it is not just the wind moving your boat. And once stationed – adjust fenders back again protecting all sides more or less equally for the wind may change, the boats may move, etc.
---
How to Use Boat Fenders – Bottom Line
Now you should know how to use boat fenders. I tried to pass on all my knowledge and give some practical advice as well. Write a comment below if you need anything else.
Good luck, Captain.