Sailing is a fun and enjoyable activity for everyone, no matter the experience level.
Mastering how to sail a primary boat is effortless. I encourage beginners to practice in the right environment as they can gain considerable experience with time.
Since most beginners make the mistake of picking the wrong boat to start with, they get frustrated and quit before they can sail by themselves.
In this blog, I will cover the best small sailboats for beginners to help mitigate this problem.
Read on to learn more…
---
---
The Three Best Small Sailboats for Beginners
---
Sunfish
Sunfish is a personalized boat for beginners to sail with. Its ease of use makes sailing enjoyable for both beginners and experienced sailors.
Key Specifications
Sail Area: 75 Square Feet
Hull Weight: 120 Pounds
Capacity: 1-2 people
Optimal Weight: up to 190 pounds
Key Features
Sunfish has a patented kick-up rudder that makes beach launches, landings, and shallow-water sailing effortless.
It has a self-bailing cockpit.
It has a stainless steel bow handle that enables carrying, docking, and holding the boat into the wind while launching or loading.
Pros
Easy to sail and rig using a single control line
Fast planning sailboat in good wind
It is cheap
Daggerboard and kick-up rudder enable easy beaching.
Cons
Little freeboard and small cockpit
A beginner can easily capsize
Why I Have Included Sunfish Sailboat in My List
I have included this sailboat in my list because it combines performance, durability, and stability suitable for beginners and experts.
With this boat, you can quickly learn how to sail, and you can't go wrong with it.
More Info International Sunfish Class Association
---
Hunter 15
Hunter 15 is a safe and versatile boat for both beginners and masters in sailing.
Key Specifications
Passenger capacity: 4
Length overall: 4.4 m (14′6″)
Draft – Board Up: (6″)0.15 m
Draft – Board Down: (3'0″)0.92 m
Key Features
Material: fiberglass
Appendages: lifting keel
Intended use: daysailer
Pros
Stainless steel arch
Spacious cockpit area
Easy to balance
Cons
It doesn't sail well in downwind
No separate starting battery
Why I Have Included the Hunter 15 Sailboat in My List
I have included this boat in my list because it has a comfortable wide beam, a contoured self-bailing cockpit and fiberglass construction.
Additionally, it is designed to allow beginners to sail around with ease, and it is a safe boat giving sailors a confident feeling and peace of mind as they sail.
More Info marlow-hunter.com
---
Catalina 16.5
Catalina 16.5 is a small, powerful recreational sailing boat constructed predominantly of fiberglass.
Key Specifications
LOA: 16.33 ft. / 4.98 m
Approximate Base Wt.: 430lb.
Draft Board up: 5″
Draft Board down: 4'5″
Key Features
Fiberglass composite Kick-up rudder
Stainless steel standing rigging
Adjustable hiking straps
Self-bailing cockpit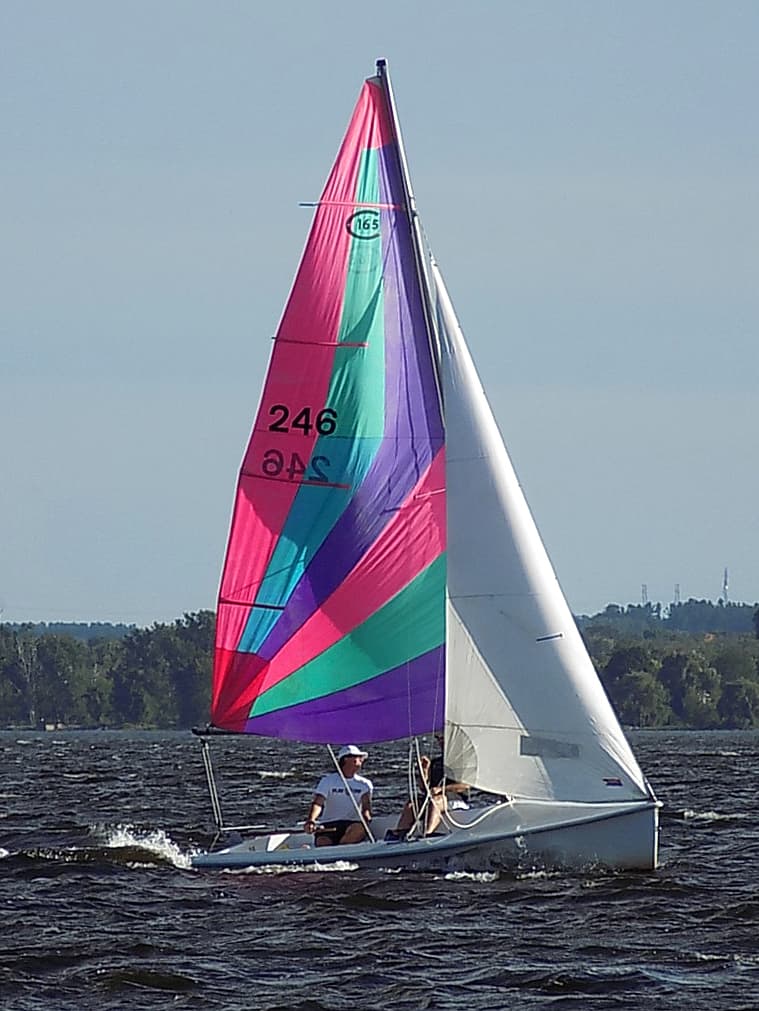 Pros
Fast sailboat
Spacious cockpit area
Easy to sail and rig around
Why I Have Included Catalina 16.5 Sailboat in My List
I have included Catalina 16.5 boat in the list because of its fantastic design, is versatile, and you can get them in two designs: the keel model and the centreboard model.
More Info www.catalinayachts.com
---
So, What's the Best Small Sailing Boat For Beginners?
Here are my top three picks of best small sailboat for beginners:
Sunfish
Hunter 15
Catalina 16.5
If I had to pick one, I would go for Hunter 15 sailboat because it has the the best safety features. The Hunter 15 sailboat is also easy to operate, plus you can dock with no problem. The boat is easy to maintain, and it's not complicated for a beginner.
What is your choice?