Affiliate Disclosure: Some of the links in this post may be affiliate links. As an Amazon Associate, we earn from qualifying purchases. Learn more here.
---
Today's post is all dedicated to the teak oil vs teak sealer debate. If you want to protect your boat's teak deck from outdoor elements and preserve its looks, then you will need to use one product or the other. Which one would be the best for your needs though?
Read this article – you will find all the answers below!
---
---
Why is Teak a Common Wood of Choice on Boats?
Teak is an extremely popular wood in marine uses, especially decking. There are several reasons for this:
Hardness and durability. Teak is one of the hardest and densest woods out there, so it is often used in boat construction.
Excellent environmental resistance. Teak excellently resists rot, mildew, and fungi. This is primarily thanks to the natural oils contained in teak.
Resistance to cracking. Thanks to the natural oils, teak is highly resistant to warping and cracking, even when under direct sunlight or in contact with water.
Non-skid properties. Teak is high in silica, which imparts non-skid properties to it. This is great because silica allows teak to stay grippy even when wet.
The excellent durability of teak is primarily thanks to the natural oils contained in the wood. The oils not only protect teak but also provide an attractive golden sheen to the wood.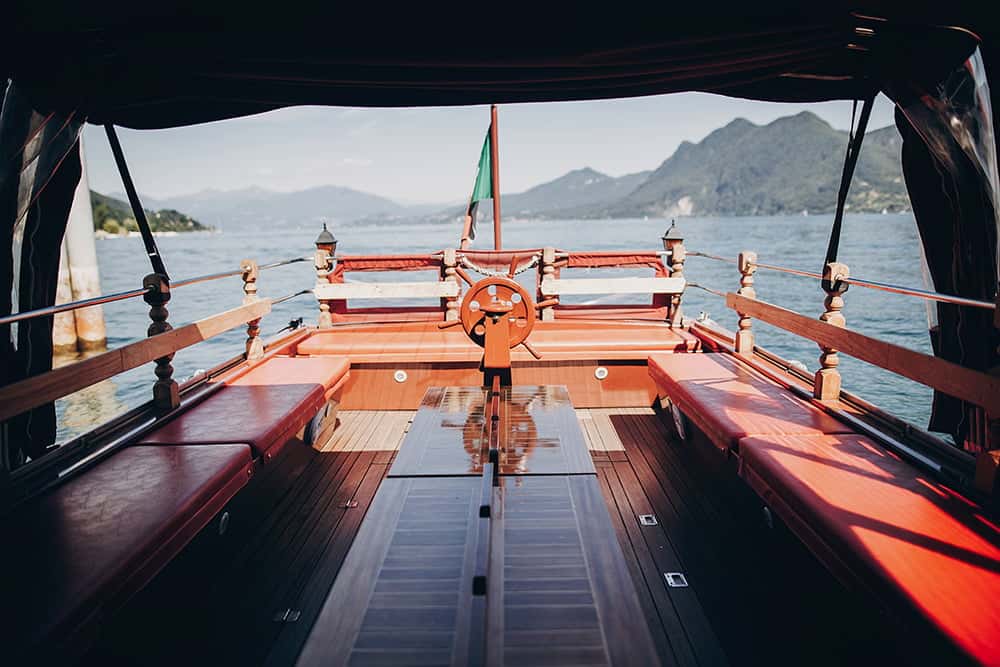 ---
Why Would You Want to Use Marine Teak Oil or Sealer on Your Boat?
So it appears that teak is fully capable of protecting itself from the harsh outdoor environment and stay in pristine condition for a long time. So why would you even want to apply any marine teak sealer or oil to it?
Well, the thing is that teak weathers over time when exposed to sunlight. Weathering happens because the wood's protective natural oils start evaporating. Teak weathering is manifested in the finish turning silvery-grey.
Now, many people are okay with weathered teak and actually love the silvery-grey finish. However, if aesthetics is of utmost importance to you, then you will want to do everything you can to maintain the wood's natural golden sheen.
Aside from that, given how harsh marine environments are, you would want to physically protect the wood from water and sunlight. Although teak is extremely resistant to outdoor elements, it may fail too if you do not take care of it.
---
Marine Teak Sealer vs Teak Oil – What's the Difference?
Teak oil and teak sealer are used to treat teak wood to restore its unique appearance, as well as provide some protection from outdoor elements. However, although similar in use, teak oils and sealers are dramatically different in their purpose, advantages, and disadvantages.
With that in mind, in this section, we'll cover the differences between teak oils and sealers, starting with oil.
---
What is Teak Oil?
Teak oil is sometimes confused for natural teak oil, but it's actually not that. Instead, it's made with tung or linseed oil. Typically, some varnish and other extras are added in as well.
The primary purpose of teak oil is to restore the natural look of teak wood. However, teak oils intended for marine use also sometimes have UV protectants in them for sun protection.
Advantages of Teak Oil
As far as advantages go, teak oil has three pros to boast:
Excellent appearance restoration abilities. With the primary purpose of teak oil being restoring the natural look of teak wood, it's no wonder that its #1 advantage is the restorative ability. Teak oil is superior to teak sealers in restoring the grain pattern and color of the wood.
No chipping, peeling, or cracking. Because teak oil gets soaked into the wood, it does not build up on the surface of teak and thus does not crack, peel, or chip.
Added protection. As mentioned earlier, teak oil intended for marine use may contain additives to protect the wood from the outdoor environment.
Sounds fairly nice, right?
Well, what if we told you that teak oil has a number of disadvantages that may make you lean toward teak sealers? Let's talk about them more below.
---
Disadvantages of Teak Oil
The disadvantages of teak oil are as follows:
Relatively low protection from outdoor elements. Teak oil – whether for marine use or not – is not as protective as teak sealers. Non-marine teak oil often isn't even designed to protect the wood, instead focusing solely on restoring its appearance.
High maintenance. Under sunlight, teak oil quickly deteriorates and requires frequent reapplication. Typically, teak oil needs to be reapplied 2-4 times a year.
Form over function. Given how demanding marine environments are, teak oil's focus on form over function is a fairly big disadvantage.
Messiness. Teak oil can be a little messy during application due to its oiliness.
One thing that we'd like to talk about more is that teak oil may actually make the condition of your teak wood worse. This is because when the teak oil inevitably evaporates, the wood becomes dry again, and oftentimes even drier than before.
With all that in mind, teak oil is only a temporary fix.
However, thanks to its protective properties, marine teak oil is much tougher and more practical than regular teak oil. But any kind of teak oil weathers fast, and you need to reapply it once every several months.
---
What is Teak Sealer?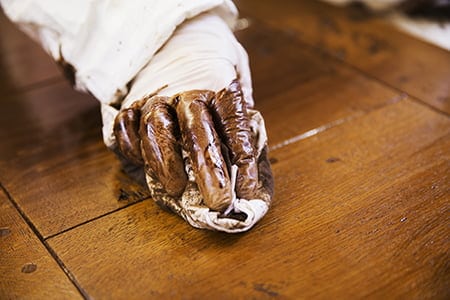 The purpose of teak sealers is to mainly provide protection to teak wood from UV, moisture, and mildew. All in all, the focus of teak sealers is much more on protection, though they are somewhat capable of preserving the natural beauty of wood as well.
Teak sealers primarily work by sealing the oils and resins inside the wood, allowing teak to preserve its natural protective properties. With that said, you may actually apply a sealer over teak oil to get both protection and looks.
---
Advantages of Teak Sealer
The advantages of teak sealer over teak oil are as follows:
Much better protection. Teak sealer is much more protective than teak oil. Typically, teak sealers provide protection from sun, water, salt, fungus, and mildew.
Low maintenance. Teak sealers last much longer than teak oil. Usually, teak sealers require reapplication only once a year.
With that, teak sealers are much tougher and longer-lasting than teak oils. And all in all, teak sealers are far more practical than teak oils for marine uses.
---
Disadvantages of Teak Sealer
The primary disadvantage of teak sealers is that you have to remove the old finish from the teak before applying a new layer of seal. Due to this, many boat owners seem to actually prefer to use teak oil with protective properties over sealers.
---
What About Varnish?
If you are wondering about varnish, then it is designed to provide gloss to the wood along with some protection.
However, the varnish is slippery, so it definitely isn't a good choice for decks. Instead, you should reserve varnish for furniture or other teak surfaces that aren't supposed to be stepped on or grabbed.

---
Best Teak Oils & Sealers for Boats Review
Now, we'd like to introduce you to a few solid teak sealers and oil options for boats. Our recommendations won't necessarily work best for your needs, but they should allow you to get started.
---
Best Teak Sealer for Boats
---
Star Brite Teak Sealer
The Star Brite Teak Sealer is advertised specifically for tropical marine environments. Aside from that, it performs well in northern climates.
When it comes to protection, Star Brite Teak Sealer is formulated to protect teak wood from salt, sun, and water. Additionally, it prevents the blackening of the wood due to mold.
Notably, the Teak Sealer is available in classic, light, and clear colors, so it should be able to satisfy any taste. Star Brite offers this thing in pint, quart, and gallon cans as well.
---
Better Boat Teak Sealer
The Better Boat Teak Sealer is available in 32-ounce cans and is designed to restore and preserve the natural appearance of teak wood. Aside from that, the Better Boat sealer provides the wood with protection from salt, water, and sun.
What's also nice about the Better Boat teak sealer is that it's fairly inexpensive. Though due to this, we'd expect it to last not as long as the Star Brite sealer.
---
Semco Goldtone Teak Sealer
The Semco Goldtone teak sealer is advertised as not to need deep cleaning or stripping before each application, which is very nice. However, we'd still advise that you thoroughly clean your teak before each renewal of the coat, especially if the old coating is damaged.
In terms of color, the Goldtone teak sealer is designed to restore the natural shade of teak, although you can find it in several other shades too.
As for protection, this teak sealer contains UV inhibitors and water repellents. It may not be as protective as the Star Brite teak sealer, but it will work fine in moderately harsh environments.
---
Best Teak Oil for Boats
---
Star Brite Premium Golden Teak Oil
The Star Brite Premium Golden Teak Oil is designed to not only restore the teak's golden finish but also protect the wood from sun damage and fading. Aside from that, Star Brite advertises that this teak oil lasts 4-6 times longer than other teak oils.
All in all, you should be able to get 3-4 months out of each coat of this teak oil, even in harsh conditions.
---
BoatLIFE Teak Oil
The BoatLIFE teak oil is advertised to be a combo of oil and sealer. With that, it should deliver both looks and protection. What's also notable about this teak oil is that it's compatible with Life-Calk seam compounds.
---
TotalBoat Teak Oil
Finally, the TotalBoat teak oil doesn't seem to provide significant sun and water protection, but it appears to hold up in harsh marine environments pretty well. The TotalBoat teak oil is less expensive than our previous two picks as well, so it's a good option for those on a budget.
---
Frequently Asked Questions
---
Can You Sand Teak Wood?
Yes, but teak should be fully dry before sanding.
Does Teak Oil Go Bad?
Teak oil lasts for years, but you should keep your teak oil container away from water or other liquids.
How to Apply Teak Oil on a Boat?
You should follow the instructions of your teak oil, but generally, here's how it's done:
1. Strip existing finishes.
2. Apply teak oil with a paintbrush or rag, wiping it into the grain parallelly.
3. Wait for 30 minutes and add another coat of oil.
4. After 15 minutes, wipe the surface dry.
5. Let the oil sit for 8-10 hours.
---
Teak Oil vs Teak Sealer – Conclusions
So here is how the teak oil vs teak sealer comparison works out – teak oil is more about appearance, whereas teak sealer is all about protection.
You don't have to use only one or the other – you may first restore the appearance of your teak with oil and then apply a sealer to the wood for protection.
Thanks for reading and you're most welcome to check out other posts on our blog.
Last update on 2021-01-16 / Affiliate links / Images from Amazon Product Advertising API
Disclaimers
All product names, logos, and brands are property of their respective owners. All company, product and service names used in this website are for identification purposes only. Use of these names, logos, and brands does not imply endorsement.
It is our policy to make every effort to respect the copyrights of outside parties. If you believe that your copyright has been misused, please provide us with a message stating your position and we will endeavor to correct any misuse immediately.
Some of the links in this post are affiliate links. As an Amazon Associate, we earn from qualifying purchases. This means if you click on the link and purchase the item, we may receive an affiliate commission, at no extra cost to you. This helps us keep this website alive. Learn more here.